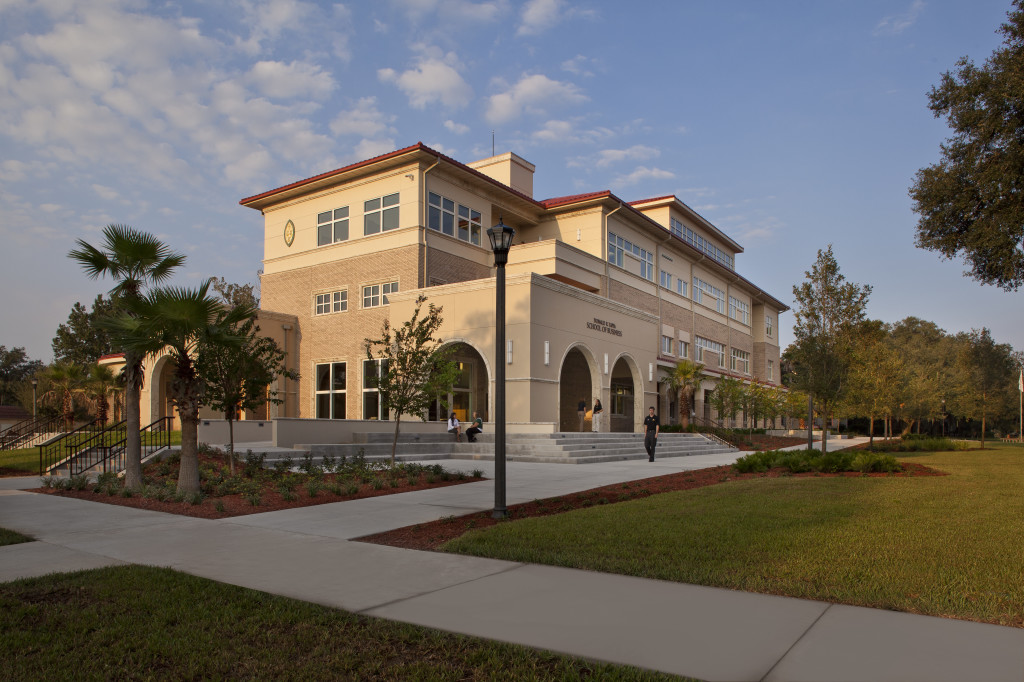 [su_carousel source="media: 121,120,119,118,117,116,115,114,113,112,109,117,116″ width="960″ height="200″ title="no" speed="2000″]
[su_box title="Saint Leo University School of Business" style="glass" box_color="#d91717″ radius="6″]
33701 State Road 52
Saint Leo, FL
Brief Description of Project
The Saint Leo Donald R Tapia School of Business is a project managed by Lisa Milam at Lunz Prebor Fowler Architects(Architect of Record)(that consisted of  4 level 52,000 sf  building that included 9 classrooms and 3 seminar rooms.  The building also housed a broadcast studio(radio and video) for SLU and 70 seat person Lecture hall with recessed floor known as TECO Hall.  The fourth level was left unfinished with 6800sf area available.  Department Chairperson offices as well as professor offices flanked the student gathering areas on each of the 3 levels.  The Donald R Tapia School of Business Administration offices are located on the third floor.  The building has state of the art Audio Visual systems in each of the classrooms with 2 to 4 large plasma SMART boards in each of the rooms.  There are also Codex cameras in many classrooms for virtual collaboration with others students outside the classroom.  The concept  behind the classrooms are to create collaborative spaces were groups can work on projects in smaller areas of the space and have the lastest technology at their fingertips to use for research, input and presenting of  ideas.  There are breakout areas and collaborative casual seating areas in the gathering spaces.  Two large outdoor classrooms are adjacent to the building as well.  This building was the first Academic in over 40 years and was scheduled to be LEED silver, but the project team managed to make it to LEED GOLD certification.
 Client Contact
Frank Mezzanini frank@mezzanini.com       352-467-0005
Owners Initial Budget:        $10,500,000.00  
Total Project Costs:              $10,686,343.00
5 Owner Change Orders (DPO and to add generator to project, no contractor-generated change orders)

CM contact on Project  Creative Contractors:    

Josh M. Bomstein, LEED AP

(727)461-5522

Substantial Completion:    08/05/2011

Project came in on time and under  budget.
[/su_box]